Need to spice up your everyday commute? Looking for something with style, practicality, and a dash of excitement? The Honda Accord Sport 1.5L is here to take your drive to new heights. This all-new Accord is outfitted with premium features inside and out — it's no wonder the 2018 Accord is the North American Car of the Year. So, what makes this Accord stand out from the rest? Here are just a few of our favorite features on this sleek and sporty model:
Aesthetics
There's no way around it—this Honda is bad to the bone. It's hard not to stare at the 19-inch alloy wheels that this bad boy is outfitted with. The Accord Sport also features dual chrome-tipped exhaust pipes and an aggressive rear spoiler. There's no question that this model was built for speed. Adorning the front of this Honda are LED headlamps, as well as LED fog lights—a nice touch to the sophisticated look of the Accord Sport.
Tech
The Accord Sport isn't just about looks though. This Honda is loaded with tech that will make any drive—whether you're commuting to work or racing down an open road—an absolute blast. New for 2018 is the integration of Apple CarPlay and Android Auto. Couple these new additions with an 8-inch touch-screen display and a 180-watt audio system with 8 speakers, and you're ready to jam your favorite tunes at full blast.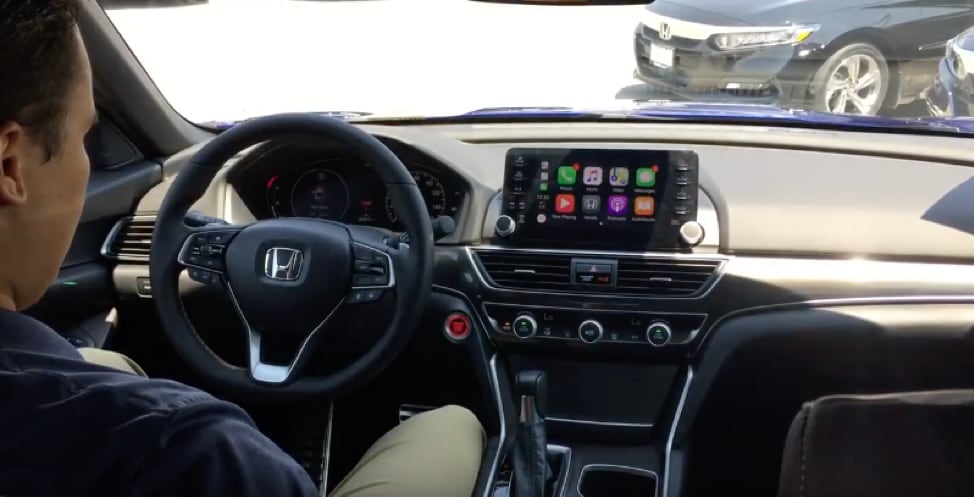 Honda Sensing
Not only will you feel the power of the Accord Sport after pressing on the gas pedal but also you'll gain added peace of mind knowing that this model is equipped with Honda Sensing. This intelligent safety suite offers features like adaptive cruise control, lane keeping assist, collision warnings, and much more. The Accord Sport is equipped with cameras on the front of the vehicle that do all of this, plus the Accord Sport will pick up any speed limit signs you pass by and display them on the dash! Say goodbye to accidental speeding tickets!
The Honda Accord Sport 1.5L is a great option for drivers who want to take back control of their daily drives. This model is available in a 6-speed manual transmission, as well as a CVT equipped with Sport Mode for an exhilarating drive. Stop by today to test drive one of these incredible Accords. In the meantime, get searching for the perfect one on our website.