Honda Service & Repair Department - Murray, UT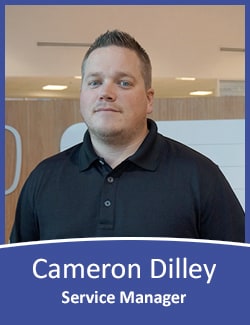 Hi, I am Cameron Dilley, Service Manager at Larry H. Miller Honda Murray.
I have worked with Larry H. Miller Dealerships for over 6 years and I really enjoy getting to work with so many great employees and customers here in Murray, Utah.
On behalf of Larry H. Miller Honda Murray, welcome to our auto repair service department! We have a never-ending pursuit to ensure our customers leave feeling happy and satisfied with the service we've provided. Whether this is your first time visiting us or you've been here numerous times, we appreciate your business and the opportunity to continually serve you.
Welcome to Our Auto Service Center in Murray, UT/the Salt Lake Valley
Honda vehicles are reliable and efficient, but they won't stay that way if you don't give them regular maintenance. At Larry H. Miller Honda Murray, we realize that you may not have time to service or repair your own car. Luckily, our service center is located less than a mile from Murray High School, and you can schedule a convenient appointment time with our online tool. Read on to find out more.
The Importance of Maintaining Your Honda
Your Honda car, truck, SUV, or minivan was built to perform, but everyday wear and tear can take its toll on your vehicle. If you don't give it regular oil changes, your car's parts will deteriorate over time. A small concern could grow into a severe problem without proper service. Even a minor issue like low air pressure in your tires can worsen your fuel economy.
Brake issues, bad tires, or even worn-out wiper blades could become a safety hazard if you can't stop your vehicle or see through the windshield. Soil liquefaction can be a problem in Murray, so you'll want to make sure your tires are checked regularly, and the wheels are aligned properly for smoother handling on uneven roads.
Honda vehicles generally have a higher resale value than other brands, and you can help preserve that by keeping them serviced. When it comes time to trade your car in or sell it to a private owner, you'll get better value if the vehicle is in good working order.
Why Have Your Vehicle Serviced at a Honda Dealership?
To get the proper care for your Honda, it helps to have it maintained by certified technicians who specialize in Honda vehicles. These manufacturer-trained mechanics keep up with the latest vehicle enhancements and repair techniques so they're able to handle any upkeep or repairs your car might need.
Your Honda dealer will always check to see if your repair is covered by the factory warranty. Covered repairs may be done for free, and we may already have your needed Honda parts in house. Genuine Honda parts are always the best bet because they were specifically designed to work in your Honda vehicle.
Not only does your Honda dealership's service center have the expertise and parts for reliable repairs, but we also get technical service bulletins (TSBs) from Honda. These TSBs alert us to any special issues or recalls on a particular model that need to be addressed.
Why Service at Larry H. Miller Honda Murray?
Larry H. Miller Honda Murray has serviced more Honda vehicles than any other dealership in Utah. Our experienced team can spot small issues and fix them before they become crippling problems. We also use the latest tools and diagnostic equipment to get your vehicle serviced or repaired right every time.
We offer many money-saving specials at Larry H. Miller Honda Murray, and we'll accept competitors' service coupons. You always get free flat repairs with us, and we have a tire price protection guarantee. Our Total Care Auto package allows you to get 3 oil changes, 3 tire rotations, 3 multi-point inspections and 3 car washes for just $90 a year.
We've been part of the Larry H. Miller Auto Group since 1984, so Murray drivers can rely on us give them fair, honest service. Our vision is to be "the best place in town to work, and the best place in town to do business." We apply our values of integrity, stewardship, hard work, and service in every transaction because we want you to return to us for all your auto service needs.
Larry H. Miller Honda Murray

5808 South State Street
Murray, UT 84107