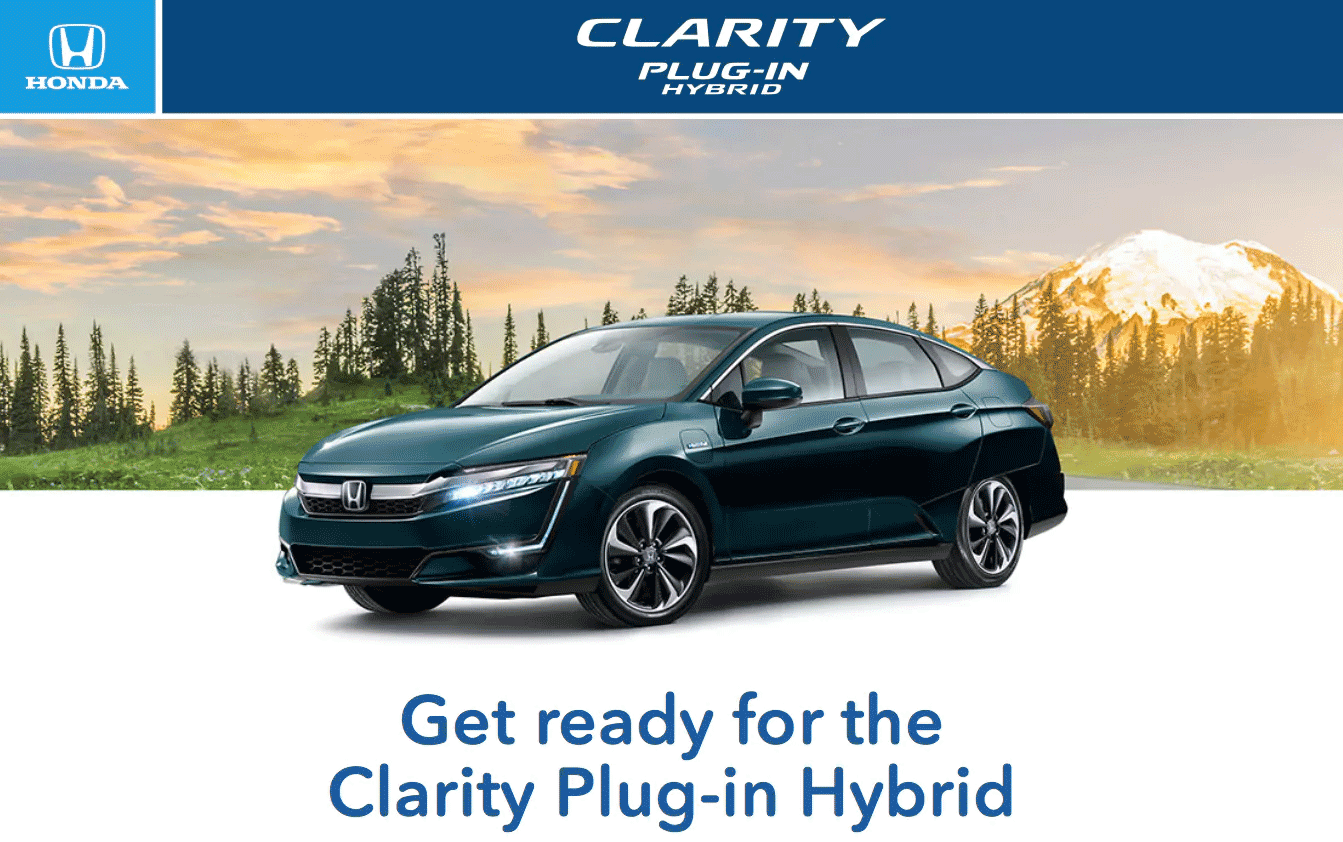 New 2018 Honda Clarity Plug-in Hybrid
The new 2018 Honda Clarity Hybrid comes with a lot of benefits the socially conscious driver will absolutely love. 
Here's a list: 
 The new Honda Clarity Plug-in Hybrid comes with a class-leading 47 mile all-electric range rating,*
Longer periods between regular maintenance,
Up to $7,500 in federal and state tax credits,
You can drive in the HOV lane in Utah!
2017 Honda Clarity Electric
The all-new Honda Clarity Electric is the ultimate electric car for drivers looking to spend less at the pump while going farther on one charge.
Here are some of the benefits of the new Clarity Electric:
89 mile EPA range rating,*
Charges up to 80% in approximately 30 minutes with standard DC fast charging,
Level 1 and Level 2 charging capability resulting in charging virtually everywhere you need,
With the HondaLink® app you can check the status of your battery and find charging stations from the palm of your hand!
2017 Honda Clarity Fuel Cell
The new 2017 Honda Clarity Fuel Cell has some pretty stellar benefits with its electric drive motor. Those benefits include:
An engine with zero emissions and instant acceleration(it converts hydrogen into electricity),
A 366-mile range rating*,
Refueling only takes approximately 3-5 minutes,
With the HondaLink® app you can check the fuel level on your phone from just about anywhere,
A fuel card from Honda for up to $15,000 worth of hydrogen fuel during your full lease term when you lease for three years.
Questions About The New Honda Clarity?
Based on 2017 EPA range rating. Use for comparison purposes only. Your range will vary based on how you drive and maintain your vehicle, driving conditions, battery-pack age/condition and other factors. Learn more at 
https://automobiles.honda.com/clarity