Honda Service & Repair Department - Murray, UT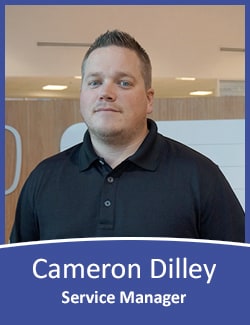 Hi, I am Cameron Dilley, Service Manager at Larry H. Miller Honda Murray.
I have worked with Larry H. Miller Dealerships for over 6 years and I really enjoy getting to work with so many great employees and customers here in Murray, Utah.
On behalf of Larry H. Miller Honda Murray, welcome to our auto repair service department! We have a never-ending pursuit to ensure our customers leave feeling happy and satisfied with the service we've provided. Whether this is your first time visiting us or you've been here numerous times, we appreciate your business and the opportunity to continually serve you.
Welcome to Our Auto Service Center in Murray, UT/the Salt Lake Valley
Honda vehicles are reliable and efficient, but they won't stay that way if you don't give them regular maintenance. At Larry H. Miller Honda Murray, we realize that you may not have time to service or repair your own car. Luckily, our service center is located less than a mile from Murray High School, and you can schedule a convenient appointment time with our online tool. Read on to find out more.
The Importance of Maintaining Your Honda
Your Honda car, truck, SUV, or minivan was built to perform, but everyday wear and tear can take its toll on your vehicle. If you don't give it regular oil changes, your car's parts will deteriorate over time. A small concern could grow into a severe problem without proper service. Even a minor issue like low air pressure in your tires can worsen your fuel economy.
Brake issues, bad tires, or even worn-out wiper blades could become a safety hazard if you can't stop your vehicle or see through the windshield. Soil liquefaction can be a problem in Murray, so you'll want to make sure your tires are checked regularly, and the wheels are aligned properly for smoother handling on uneven roads.
Honda vehicles generally have a higher resale value than other brands, and you can help preserve that by keeping them serviced. When it comes time to trade your car in or sell it to a private owner, you'll get better value if the vehicle is in good working order.
Why Have Your Vehicle Serviced at a Honda Dealership?
To get the proper care for your Honda, it helps to have it maintained by certified technicians who specialize in Honda vehicles. These manufacturer-trained mechanics keep up with the latest vehicle enhancements and repair techniques so they're able to handle any upkeep or repairs your car might need.
Your Honda dealer will always check to see if your repair is covered by the factory warranty. Covered repairs may be done for free, and we may already have your needed Honda parts in house. Genuine Honda parts are always the best bet because they were specifically designed to work in your Honda vehicle.
Not only does your Honda dealership's service center have the expertise and parts for reliable repairs, but we also get technical service bulletins (TSBs) from Honda. These TSBs alert us to any special issues or recalls on a particular model that need to be addressed.
Why Service at Larry H. Miller Honda Murray?
Larry H. Miller Honda Murray has serviced more Honda vehicles than any other dealership in Utah. Our experienced team can spot small issues and fix them before they become crippling problems. We also use the latest tools and diagnostic equipment to get your vehicle serviced or repaired right every time.
We offer many money-saving specials at Larry H. Miller Honda Murray, and we'll accept competitors' service coupons. You always get free flat repairs with us, and we have a tire price protection guarantee. Our Total Care Auto package allows you to get 3 oil changes, 3 tire rotations, 3 multi-point inspections and 3 car washes for just $90 a year.
We've been part of the Larry H. Miller Auto Group since 1984, so Murray drivers can rely on us give them fair, honest service. Our vision is to be "the best place in town to work, and the best place in town to do business." We apply our values of integrity, stewardship, hard work, and service in every transaction because we want you to return to us for all your auto service needs.
Millcreek Honda Service
Whether you live in Millcreek or the adjacent Salt Lake City area, the experts and mechanics at Larry H. Miller Honda Murray will work tremendously hard to make sure you get the best experience conceivable. We offer a full range of services such as oil changes, tire rotations and alignments, battery replacement, brake pads, and so much more! Every service your Honda needs we can readily complete without any of the unneeded wait or hassle you may find at other independent service centers that are not Larry H. Miller Honda Murray.
Cottonwood Heights Honda Service
When choosing where to service your Honda, you may have to pick the shop that isn't inevitably the closest, but provides the knowledgeable and admired mechanics that give you the most assurance that your vehicle is in good hands. We service the extending Salt Lake City metro including Cottonwood Heights. Once you visit the Service Center, you'll see why our patrons select to travel the extra distance to be guaranteed the best service experience imaginable.
Sandy Honda Service
Whether you're looking for Honda service in Sandy, Cottonwood Heights or Millcreek, exceptional prices aren't the only determinant to consider. At Larry H. Miller Honda Murray, we offer exceptional prices on Honda auto services in the state & employ the best mechanics in the area. Our strict service standards & focus on client enjoyment have allowed our service department to rank among the upper echelon in the whole country for the last 15 years. We'll perform a free diagnostic & multi-point inspection on your Honda during every visit. We likewise service a wide range of other manufacturers, so give us a call today at 3854254756, visit our service specials page, or learn more about all the services and amenities offered at .
Salt Lake City Honda Service
Larry H. Miller Honda Murray is one of the top-rated and most exceedingly reviewed Honda service centers near Salt Lake City. Our knowledgeable and OEM-trained technicians specialize in cautiously inspecting, and correctly servicing Honda vehicles that most local independent shops & quick lube centers aren't properly trained or equipped to maintain. In fact, did you know that non-franchise service centers that aren't certified by Honda to service vehicles may use the erroneous tools or replacement parts when working on your car? It's true. Not only is Larry H. Miller Honda Murray certified by the OEM, but our incredible mechanics use OEM-certified tools & components, allowing us to get your Honda serviced promptly and sufficiently saving you time and capital. Don't let non-franchise repair shops bait you in with fake low-cost specials and upsell you on preposterous repairs you don't need! Let Larry H. Miller Honda Murray service your Honda the right way, for a noteworthy price, and without any irrelevant upsells. Book your online appointment today and receive a free multi-point inspection on all major components of your vehicle. It's Salt Lake City Honda service done the right way!
Honda Service Center
Located at 5808 S. State Street in Murray, we are the premiere Honda service center in the greater Salt Lake City area. At , we offer an abundance of exceptional service coupons and astounding parts specials to save our clients money. We still have several free amenities such as WiFi, food, drinks, and more! Schedule your service online today for additional savings.
Larry H. Miller Honda Murray Service Financing - Service Now & Pay Later
It's our purpose to give you assurance in your service experience here at Larry H. Miller Honda Murray by working to guarantee the payment process is entirely transparent. offers a variety of enough programs and incentives to assist in making sure the process is as seamless as possible. One instance is the Larry H. Miller Honda Murray Service Now and Pay Later program which has been an massive help to our Salt Lake City area clients. We also offer numerous supplemental coupons and specials to give you the opportunity for colossal savings. Reach out to confer with one of our helpful advisors to discover more and schedule your next appointment.
Honda Car Wash Near Me
One of the most remarkably satisfying parts about choosing to service your car with Larry H. Miller Honda Murray is that most of the time, a car wash is contained with your visit! That means whether you are getting a battery replacement, tire rotation and balance, multi-point check, oil change, alignment, or anything else, our team will give your car a free wash. That's just one of many reasons to prefer as your first spot to service your car. Our mechanics will work cautiously to make sure your car leaves looking magnificent.
Honda Check Engine Light
A check engine light can be one of the most confounding parts of your vehicle, but paying attention to it is essential in extending the life of your Honda. There are many reasons why your car's check engine light may be on, and our talented mechanics can let you know absolutely what is causing the essential issue. What the check engine light looks like in each vehicle may fluctuate somewhat so make sure you are keenly aware of what it looks like in your Honda. The check engine light can frequently be the prevalent way issues are discovered and diagnosed which is why you always want to make sure it's checked once the symbol begins to reveal. Our specialists are happy to answer any questions you may have about your check engine light and will work with you to figure out absolutely what the cause is.
Honda Mechanics
Do you drive something other than a Honda? Don't worry because our mechanics are proficient in a wide range of makes and models and will work immensely hard to make sure any issue you have is totally taken care of. Commitment to our patrons is principal and that means going above and beyond to greatly exceed expectations of what you would expect when bringing your car to a dealer for service. Any questions you have about service, pricing, wait time, repair, or anything else you may be concerned about, please consult with our team of advisors and we will give you the information you need to know.
Honda Technicians
A service center is only as good as their technicians and when you visit Larry H. Miller Honda Murray you can have belief your vehicle is being serviced by some of the most skilled technicians you'll find somewhere in Salt Lake City. That's because each Larry H. Miller mechanic undergoes comprehensive Honda training so that they have complete expertise in knowing how best to service and repair your vehicle. Whether it's a simple repair or a arduous and complex issue, our technicians are waiting for you and will help with any complication along the way. We know you have plenty of alternatives of where to service your Honda, but one visit to Larry H. Miller Honda Murray and you'll see why you won't want to take your vehicle somewhere else. Learn more about what you can expect when you come to visit us for service by searching our website now.
Honda Brake Specials
If your Honda needs repair or examination on brakes, the adept mechanics at Larry H. Miller Honda Murray are guaranteed to be there to assist you. Whether you need rotor resurfacing, brake rotors, rotor replacement, brake pad replacement, front and rear brake pads, brake inspections or any many other types of work on your brakes, when you bring your car in to Larry H. Miller Honda Murray you can have assurance the job will be done accurately. Our mechanics will delicately examine your brake system to make sure it's running properly and identify any defective parts. Make sure to discover our brake specials and coupons on our website so you can save during your trip.
Honda Brake Pads
Brake pads are an tremendously essential part in your Honda. The brake pads connect with brake calipers to halt the wheels and stop the car. You need steady brake pads and likewise need to have them invariably examined so they don't wear away over time. The mechanics at Larry H. Miller Honda Murray will make sure your vehicle's brake pads are acceptable for the road with a close inspection. We offer genuine Honda parts so you can have certainty your car is getting precisely what it needs. Don't miss out on our monthly brake specials so you can save capital on your next visit.
Honda Engine Filter
In order to make sure your Honda engine is running perfectly, you need an engine filter that is not damaged. Your vehicle's engine is intricate and difficult, and it's the job of the engine filter to make sure dirt, debris, or other dangerous materials don't enter your engine. If an engine filter is not doing its job, it can cause your engine to become clogged which can lead to excess stress on your engine or even total engine failure. When you take your car to service at Larry H. Miller Honda Murray, an engine filter examination is included as part of our regular examination. Please give us a call at 3854254756 and consult with our advisors if you have any questions.
Honda Repair Near Me
If you're in Murray Millcreek, Sandy, or anywhere else in the greater Salt Lake City area, Larry H. Miller Honda Murray offers a premium service experience with experienced and expertly trained technicians alongside a lovely staff of consultants to make your visit as friendly as possible. Take advantage of our elegant waiting area with wonderful amenities so you can pleasantly relax while your vehicle is being service and repaired by our extraordinary group of mechanics. There is a reason why the Larry H. Miller brand is so extremely valued everywhere you go in Salt Lake City. That's because we repeatedly offer the best customer service experience around and work energetically to make sure each visitor is completely satisfied.
Honda Battery
When was the last time you've had your Honda vehicle's battery replaced on inspected? It's exceptionally helpful to set aside some time each once in a while to have your battery accurately examined so that you don't find yourself stuck somewhere with a car that won't start. If it's been a while since your last battery examination, schedule a service appointment now at Larry H. Miller Honda Murray and our specialists will get you in instantly so that your vehicle can be examined by some of the highest reviewed mechanics in Salt Lake City. You can also find specials and coupons for your battery replacement or examination on our website.
Honda Oil Change
Every vehicle owner knows that an oil change is a necessary service your Honda needs consistently. You have a ton of options across the Salt Lake City area for where to take your vehicle for an oil change, but only Larry H. Miller Honda Murray offers amazing facilities, quiet waiting areas a wealth of experienced technicians, state-of-the-art amenities, and a absolutely friendly staff who will make the whole process speedy and smooth. If you have questions about what type of oil change is best for your Honda, whether it's a conventional oil change or a synthetic oil change, we are pleased to help. Mostly, getting a full synthetic oil change gives you the highest quality motor oil which can substantially help in extending the life of your car. If you'd like to schedule an appointment for your next oil change at Larry H. Miller Honda Murray, you can do so on our website.
Honda Air Filter
Don't let your air filter in your Honda go too long before it is delicately examined by a proficient mechanic. At Larry H. Miller Honda Murray, our team will make sure your vehicle's air filter doesn't corrode or get damaged. We'll give you an honest and clear look at your vehicle's air filter and let you know if it needs to be replaced. We likewise offer an assortment of air filter coupons that can massively lower the price of your visit. So make sure to visit our service specials page so you can see what is accessible and pick the one that will help you save the most.
Honda Brake Rotors
Do you need replacement brake rotors? Or do you need your vehicle's brake rotors examined? At Larry H. Miller Honda Murray we have the components and expertise to get it done immediately and accurately. That way, you don't have to worry about a broken brake system when you're behind the wheel of your Honda. Brake rotors are critical to the health of your car and Larry H. Miller Honda Murray is your home for getting brake rotors examined and repaired. We also offer brake rotors specials and coupons to keep your visit from getting too expensive.
Honda Transmission Service
Sometimes, transmission work can be among the most expensive service or repairs for your car. The team at Larry H. Miller Honda Murray is here to make it as delightful as possible while doing everything we can to avoid what can make transmission service so irritable. The first step is to make sure you are bringing in your Honda invariably so that you can make sure your transmission and engine are perfectly and completely taken care of. Our Honda certified mechanics know the ins and outs of what's under the hood and will surely catch anything that may be dangerous. If you have any questions about transmission service or are keen in a quote for service, give our specialists a call at 3854254756.
Honda Coolant
You seemingly are aware of coolant, but may not know precisely what it does or why it's so immensely critical to the health of your Honda. Mainly, engine coolant is used to regulate the temperature of your vehicle's engine. It is useful in both transferring heat and lowering the freezing point of the fluids in your engine - which can be important in colder climates. We endorse letting a knowledgeable technician input engine coolant in your vehicle because not doing it accurately can cause obvious damage to your vehicle. Our team is here to help and will make sure a coolant check is part of your next visit at Larry H. Miller Honda Murray.
Honda Alignment | Front Wheel & Rear Wheel Alignment
Did you know you can find a amazing deal on an alignment right here at Larry H. Miller Honda Murray. No matter if you need a 4-wheel alignment, front wheel, or rear wheel alignment, we offer an immense service center that will get it done instantly so you can get back on the road. If you don't get alignments repeatedly, you may start to notice your car drifting in a certain direction. This undoubtedly can lead to serious issues that may even put your car in a delicate position. So make sure to schedule your next alignment with us, along with any additional items your car may need. Call us at 3854254756 or visit our website to select the date and time of your appointment.
Honda Oil Change Coupons
Does your Honda need an oil change? You're in good hands with the skilled team at Larry H. Miller Honda Murray. An oil change is one of the primary services your vehicle needs and we have a wide range of oil change coupons and oil change specials to help decrease the cost of your visit. Getting an oil change should not be expensive and we want to help you save! We normally change out our oil change coupons and consistently put them on our website, so when you are buying for your next Honda oil change, make Larry H. Miller Honda Murray your first stop.
Honda Salt Lake City Service Coupons
When you visit the service specials on the website you'll see a ample amount of coupons and options of ways to save money on your service experience. You can then choose the one that fits absolutely what you need for your Honda. The coupons fluctuate each month so be sure to keep checking in to see how you can best save. You can consistently give us a call at 3854254756 to speak with one of our useful experts who are ready to help.
Honda Cabin Filter
You may not think of it usually, but your cabin filter is a critical component of your car. It's the job of the cabin air filter to filter out contaminants from inside the engine and prevent them from entering the cabin of your Honda where you and your family sit. A damaged or deteriorated cabin filter can cause a wide range of issues and that's why it is crucial you assure an check of your cabin filter is added in in your service visit. Our skilled Honda mechanics know definitely what to look for and will let you know when it is time for a replacement. We will likewise happily answer any questions or concerns you have about your cabin filter and when or why it may need to be replaced.
Honda Tires & Tire Replacement
As a vehicle owner, it's of paramount importance to keep a close eye on your Honda tires so you can see when they begin to corrode. Without getting your tires constantly examined you risk them beginning to corrode which can be perilous as well as a potentially pricey fix if they all need to be replaced. Luckily, you're in good hands here at Larry H. Miller Honda Murray because we offer every major tire brand along with certified Honda parts so you can have confidence you're getting the best service likely. We likewise offer a wide range of tire coupons and tire specials throughout the year to help you save on the price of a new tire. So if you are in need of one, two, or four tires, your first stop would be to the Larry H. Miller Honda Murray website where you can browse our marvelous specials and schedule your visit today.
Honda Recall
It's invariably extremely essential to stay current with the latest Honda recall facts. This is essential for a variety of reasons but mostly because it is useful in helping to keep you and your vehicle safe. When you come to Larry H. Miller Honda Murray with a recall, our skillful team will certainly have the right parts to get it fixed expeditiously. The most astonishing part is, because it's a recall, this work is complimentary. So whenever you get your next recall notice from Honda be sure to take it to Larry H. Miller Honda Murray so we can get it fixed and back on the road!
Honda Maintenance Schedule
Your car can only be as durable as you take the time for it to be. An huge part of that is sticking to your Honda vehicle's maintenance schedule. That means consistently bringing in your vehicle to be closely examined by our expertly trained technicians and never skipping a multi-point inspection, tire rotation and balance, filter check or replacement, oil change, alignment, or any other service when they are necessary. It's again means paying close attention to your Honda vehicle's check engine light so any dangerous problem can be rapidly diagnosed. If you are unfamiliar of what your vehicle's maintenance schedule is or should be, it's advised that you get with the service team at Larry H. Miller Honda Murray so we can help set one up.
Honda Diagnostics
Do you have an unrecognized issue in your car that needs to be addressed? Our factory-trained mechanics can expertly diagnose any issue your Honda is facing and determine how best to correct it. Occasionally it can be a simple and rapid fix, other times it may be more complex. Either way, our mechanics are precisely trained to diagnose the problem. Our consultants will privately walk you through everything you need to know and make the whole process seamless. Make sure to save time on your visit by scheduling an appointment through our website or give us a call at 3854254756 to speak with our service team directly.
Honda Service Near Me
In order to keep your Honda in amazing condition, you'll need a Honda service center you can totally trust. If you are browsing for Honda service near me, you certainly have plenty of options, but Larry H. Miller Honda Murray stands out from the rest thanks to our knowledgeable mechanics who offer knowledge in all things auto service. If you're looking for friendly, peaceful hands in the Salt Lake City area to drop off your car with, one visit to Larry H. Miller Honda Murray will help you understand this is the service center for you. Make sure to visit our website to explore the numerous service options accessible and schedule your next appointment now!
Honda Murray | Honda dealership Murray
Your first choice in Murray to buy a Honda should be Larry H. Miller Honda Murray. But it's not just for Honda vehicles, if you're looking to take home a car other than a Honda, Larry H. Miller Honda Murray should be your first stop. That's because Larry H. Miller Honda Murray offers a huge selection of used vehicles across an endless array of makes, models, and budgets. Of course, you can do way more at Larry H. Miller Honda Murray than just buy a car - it's also the first place in Murray to trade, sell, and service your car. Take time to examine our website to discover more data about everything Larry H. Miller Honda Murray offers.