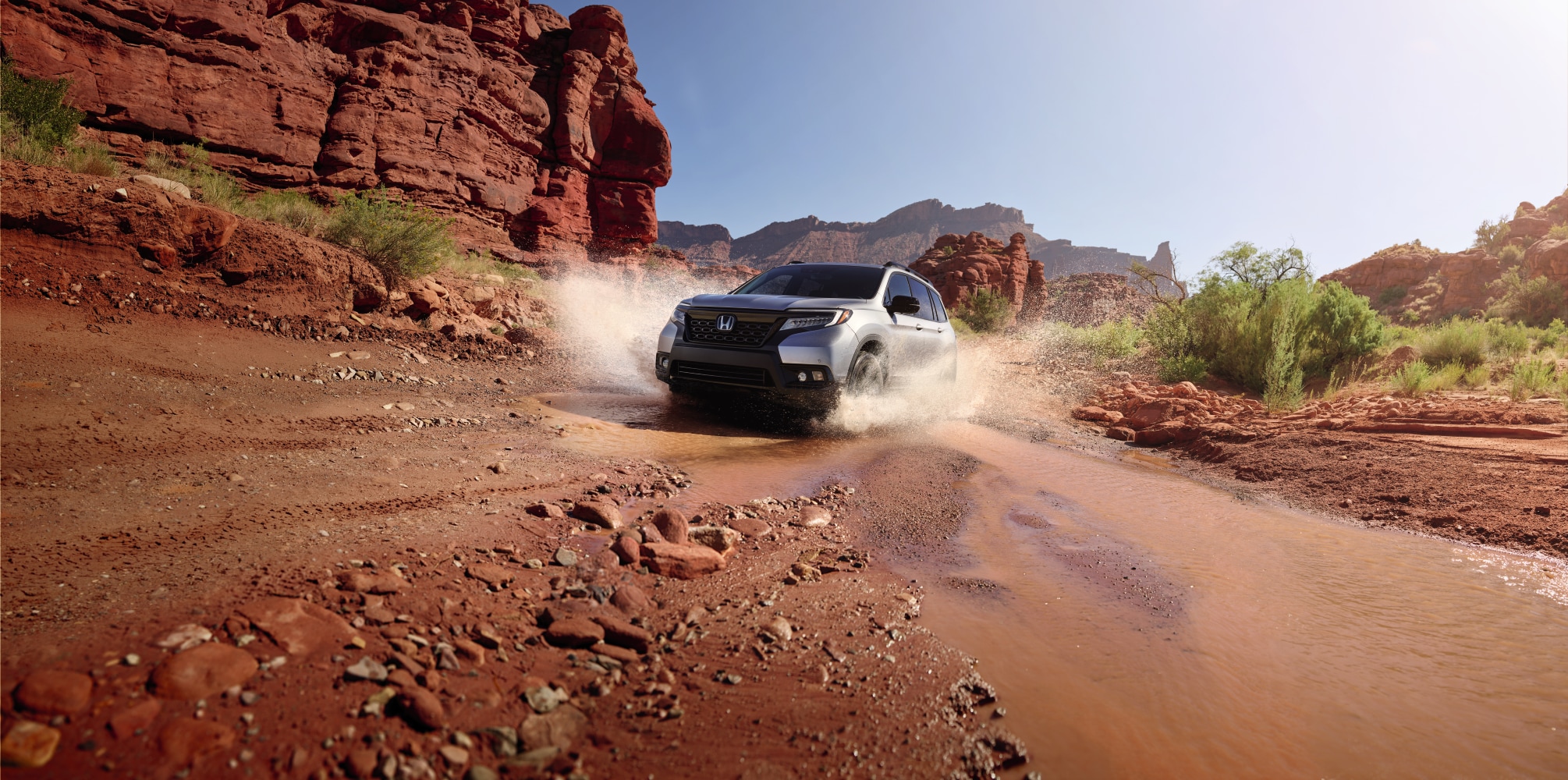 2019 Honda Passport Prepares You for the Journey
Back in the 1990s, Honda had its own midsize, two-row SUV for drivers who prefer adventurous routes. The original Passport disappeared in the mid-2000s, but the nameplate has made a comeback. Honda has released an all-new 2019 Passport. This new model sits between the 2019 CR-V and 2019 Pilot in terms of size, offering yet another SUV option for Honda enthusiasts to consider.
See All Honda Passport For Sale
Powertrain and Capabilities
Power is plentiful in the new 2019 Passport, with a standard 3.5-liter i-VTEC V6 putting out some impressive numbers. Press the accelerator and the 2019 Passport will deliver 280 horsepower and 262 pound-feet of torque. This power isn't exclusive to just the higher trim levels either. Every single new 2019 Passport comes with the V6 powertrain. This standard powerplant ensures that the new truck is ready to tow up to 5,000 pounds.
The 2019 Passport has plenty of grunt under the hood, and it knows how to deliver that power to ground effectively. Front-wheel drive is the standard setup for the SUV, but Honda does offer an available Intelligent Torque Management™ all-wheel drive system (i-VTM4®). All models, regardless of drivetrain, get an intelligent traction management system with separate drive modes for mud, sand, and snow. These features help the 2019 Passport traverse all sorts of weather and terrain conditions with ease.
Adventurous Styling
While some new SUVs are overly bold with styling, others are restrictively conservative. Few manage to strike a balance between the two, but that's exactly what Honda has done with its new 2019 Passport. The bulk of the SUV's styling is quite refined, playing off of a design language that runs throughout the entire Honda lineup. Sharply angled lines and tasteful color options mean the 2019 Passport looks right at home on city streets or parked in your driveway.
Subtle additions, however, give the 2019 Passport an outdoorsy edge as well. Namely, Honda has added black body mold accents, large black rims, and sharp LED running lights. Add on available accessories like running boards or a roof rack and the 2019 Passport has the style to match its all-terrain abilities.
Daily Utility
The 2019 Passport fills a gap that's been in the Honda lineup for a few years. It's a perfect choice for drivers who find the CR-V to be too cramped but the Pilot to be too bulky. It sits in the middle with its roomy two-row, mid-size design. The result is ample space for both the front and rear passengers, along with rear cargo capacity. Before you even fold down the rear seats, the 2019 Passport offers 50 cubic feet of cargo space. Once you fold the rear seats down, cargo capacity doubles to more than 100 cubic feet.
Honda has also designed the 2019 Passport with a nifty underfloor storage system. It's a more robust underfloor area than many models offer, with plenty of space for all kinds of items and a hard top that's ready to withstand heavy loads on top.
See All Honda Passport For Sale
Media Technology and Driver Assistance
Active safety and intuitive infotainment are both part of the core of the new 2019 Passport. Each is part of Honda's effort to provide a comprehensive driving experience in its newest SUV.
The 2019 Passport comes with a standard eight-inch center display screen. The touchscreen unit is your interface for features like Apple CarPlay™, navigation, and more. Honda has redesigned the system with a physical volume and tuning knob located to the left of the screen for easier usage. The 2019 Passport is also ahead of the curve with its available wireless charging pad, built-in WiFi functionality, and other features.
Infotainment and connectivity are fantastic for everyday experiences, but its driver assistance where the 2019 Passport really earns its stripes. Honda saw fit to give the SUV standard Honda Sensing technology -- a comprehensive driver assistance package. That means every 2019 Passport comes with several helpful technologies:
Road Departure Mitigation System
Lane Keeping Assist System
Adaptive Cruise Control
Collision Mitigation Braking System
Beyond Honda Sensing, you can pick from a ream of available safety and assistance options. Blind Spot Information System indicates when other cars are in your low-visibility areas, while Cross Traffic Monitor alerts you to cars passing behind while the 2019 Passport is in reverse.
Breaking Down the Trim Levels
As expected, Honda has put together several trim levels to consider for the 2019 Passport. The base model 2019 Passport Sport is quite the compelling package with a standard 280-horsepower V6, underfloor storage, Intelligent Traction Management, and handsome black exterior accents. The 2019 Passport EX-L adds leather seats, Apple CarPlay, and shifts to silver wheels. The 2019 Passport Touring gets premium features like heated front and rear seats and a power tailgate. Finally, the 2019 Passport Elite comes standard with all-wheel drive, a wireless phone charger, ventilated front seats, and much more.
See All Honda Passport For Sale
If You Need an Adventurous SUV with City-Friendly Comfort, Don't Pass Up the 2019 Passport
The 2019 Honda Passport is a stylish SUV with versatile capability that doesn't sacrifice on comfort and refinement. Those who want a confidence-inspiring SUV will be pleased with the planted performance of this model. At the same time, those who need an abundance of creature comforts can get what they're looking for with the model's various options and packages. At the end of the day, the 2019 Passport is a seriously compelling package that fills a long-empty slot in the Honda lineup.